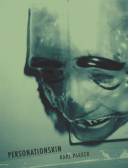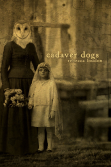 Cami Park on
God Damsel
:
I am enthralled by and in awe of this work– God Damsel is innovative and utterly fearless in its treatment of language, yet completely accessible, and funny as hell. A superb accomplishment.
Read entire review here
Cami Park on
Cadaver Dogs
:
Cadaver Dogs is the wheel that came off the trolley and landed in your soup. Small trolley, big soup.
Read entire review here
Cami Park on
PERSONATIONSKIN
:
Karl Parker executes with intelligence, humor, and mastery of the language.
Read entire review here
Bernadette Geyer on
The Myth of the Simple Machines
:
Snyder's collection is enjoyable not only for its inventiveness, which surprises and delights with its juxtapositions (The white storm seemed / outside me, but it wasn't just.) but also for its myriad strong, memorable voices (The wave was my full skirt in the warm sun, in the wet world where everything moved but nothing was lost or gained.)
Read entire review here
Catherine Daly on
The Myth of the Simple Machines
:
The importance of this -- match -- of New York School to Edward Gorey (and now Edward Gorey is so filtered through Tim Burton) to the very fine and long tradition of nonsense verse and verse that isn't light, really, isn't surrealist, really, isn't for children, but just might squeak and twitter the right way to appeal, to sell, to be women's writing that is right for the cocktail hour OR to be illustrated BECAUSE EVERYBODY ENJOYS IT: this is Laurel Snyder's achievement in this book.
Read entire review here
And Chris Purdom offers brief ruminations on
Shy Green Fields
and
Never Cry Woof
.
* * *
Review a No Tell title and get 2 free books.
Details here.
* * *
Use Promo Code: AUTUMN to save 10% on all
No Tell Books titles at Lulu
, including the latest releases:
PERSONATIONSKIN
by Karl Parker,
God Damsel
by Reb Livingston and
Cadaver Dogs
by Rebecca Loudon.
Offer valid through 9/30
http://stores.lulu.com/no-tell-books